MELASTA
Regular price
$35.00 USD
Sale price
$32.00 USD
Unit price
per
Sale
Sold out
Battery Specifications
Nominal Voltage: 12.8V
The voltage at the end of Discharge: 9.5V
Charging Voltage: 14.6V
Internal Impedance: ≤120mΩ
Standard charge: Constant Current 0.2C (Approx 6.0h)
Standard discharge: Constant current 0.2C (end voltage 9.5V)
Fast charge: Constant Current 4A
Fast discharge: Constant current 1C
Maximum Continuous Charge Current: 7.5A
Maximum Continuous Discharge Current: 10A
Battery Dimensions: 150*65*95±1.0mm
Cycle Life: about 2000 cycles at 100% DOD
Chemistry

Melasta uses Lithium Iron Phosphate Battery technology for all of energy storage batteries to keep them safe from thermal runaway and other dangers
Weight

1 Kilo Gram. That's 60% lighter than a SLA battery.
Life Cycle

Up to 80% capacity for 2,000 cycles in recommended conditions. The typical SLA has 500 cycles. Melasta Lithium batteries last so long that the price per use is a fraction of traditional batteries.
Operating Temperature

Ideal for rugged & harsh environments. Much better than SLA or other lithium's. -20'F min, +120'F max optimal operating temps (battery performs well down to -20'F). Avoid charging below 32'F.
Certifications

All batteries are CE,RoHS certified. Meets International regulations for air, ground, and train transport.
Compatible Inverter Brands
Warranty

Melasta offer one years warranty for all of our products.
Share
View full details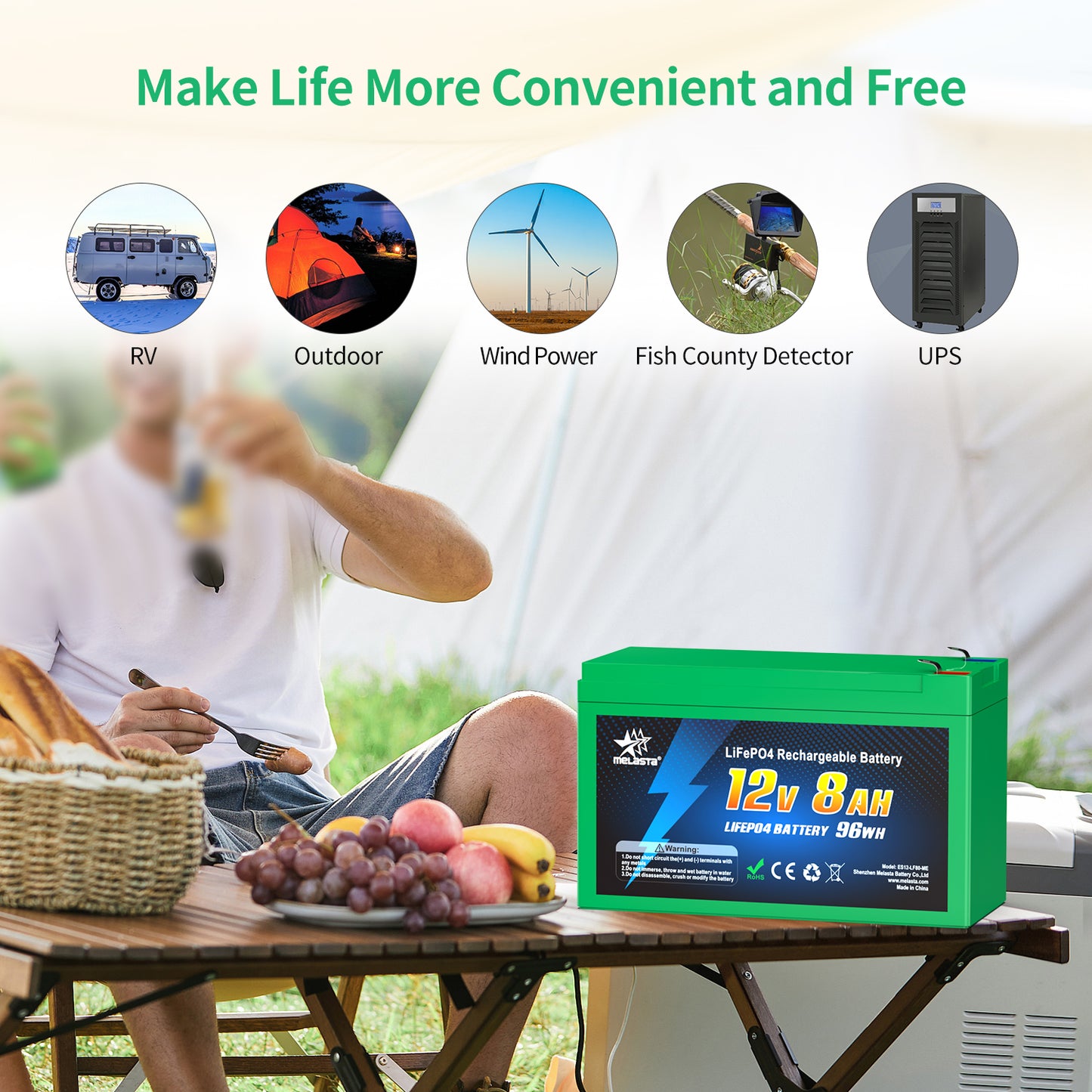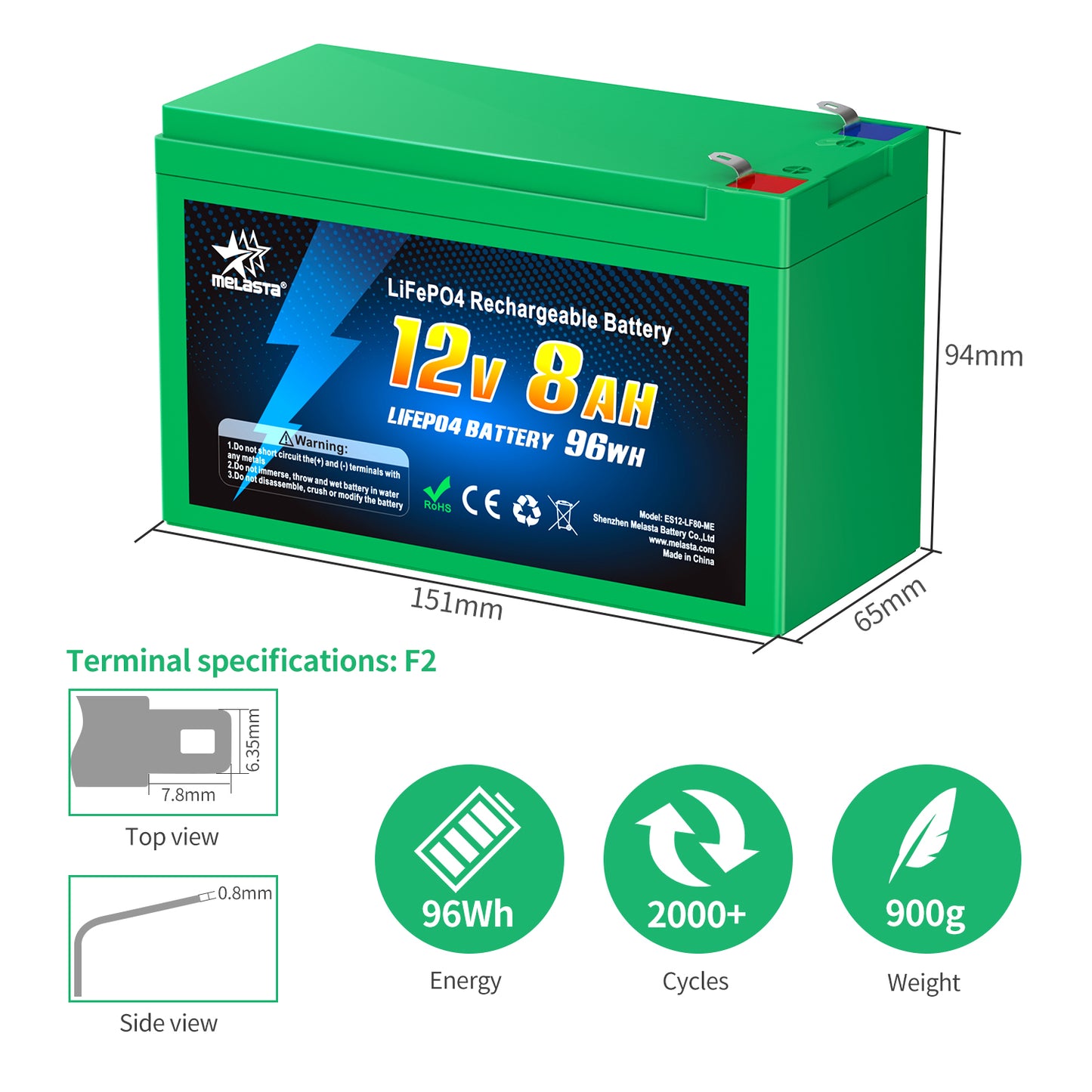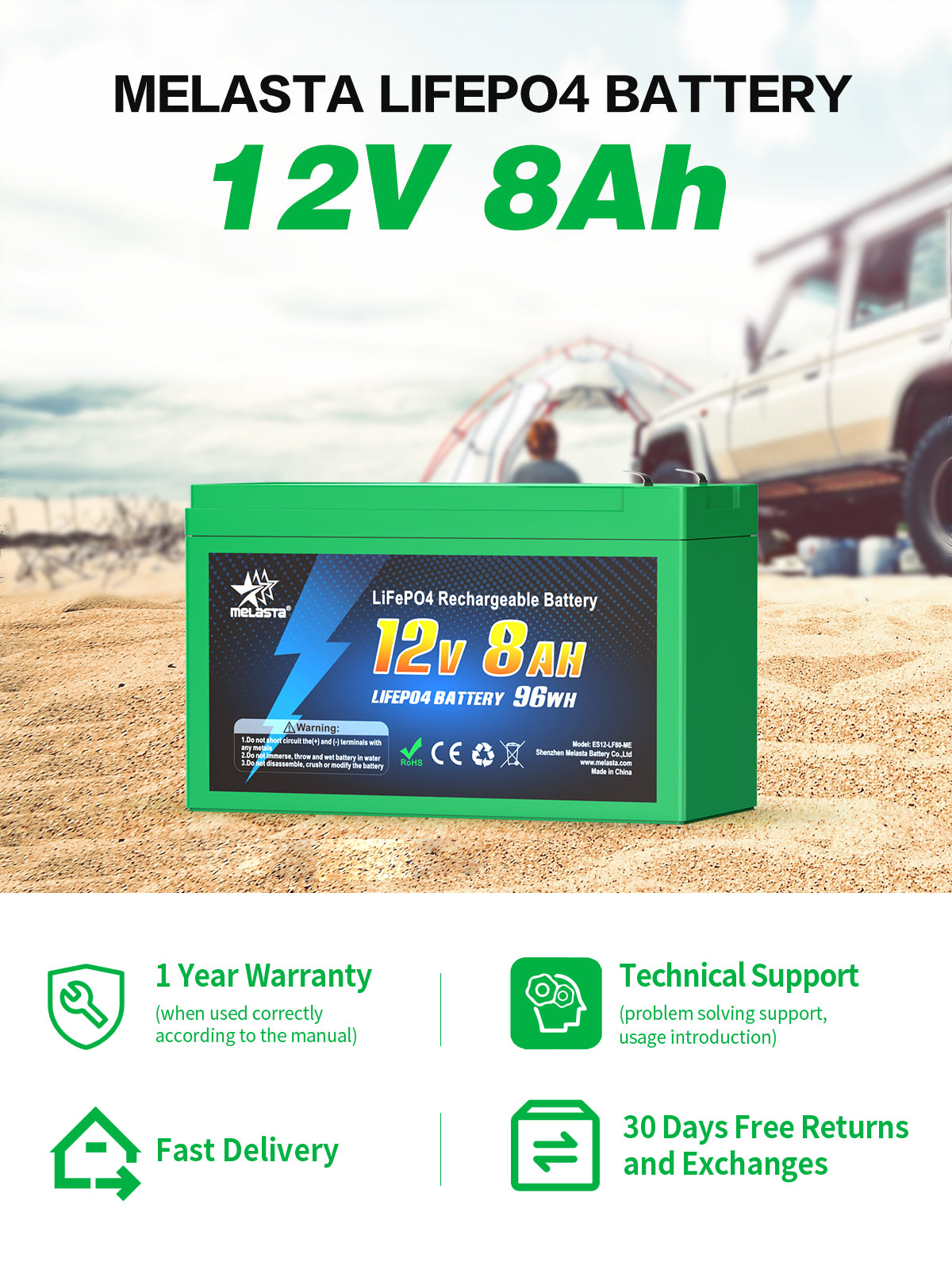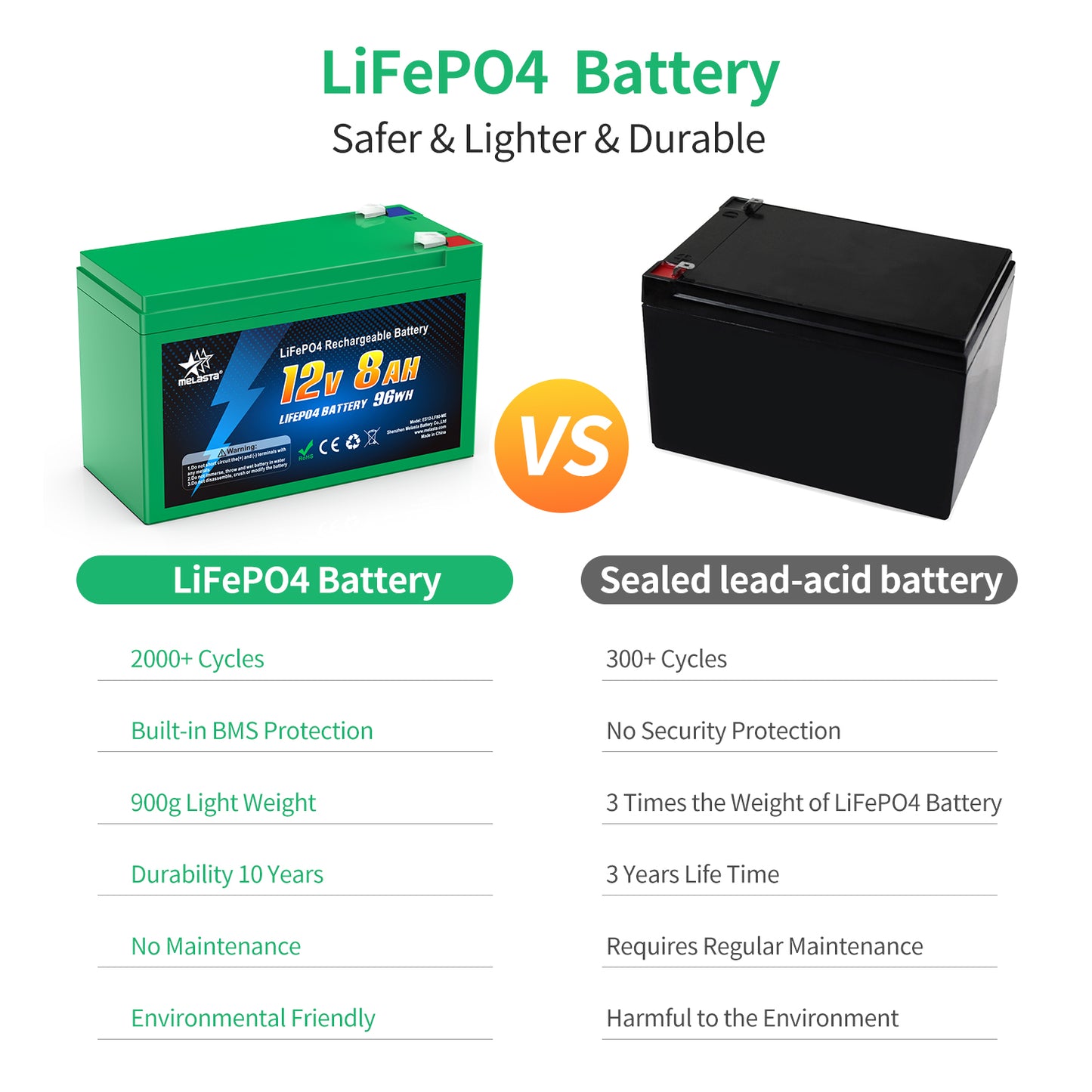 Melasta Lithium Technology Advantage
200%

2X The Power Of Traditional Batteries
1. Zero maintenance

2.Quality guaranteed with 99% Efficiency Rate

3.Fast Charge & Discharge Rates

4. No Thermal Runaway with Fire Propagation

5. Easy installation

6. Built-In BMS with Breaker On/Off Switch

7. Extended Operating Temperature -4 to 140F

8. Eco-friendly- Non-Toxic & Non-Hazardous Cobalt-Free LFP Chemistry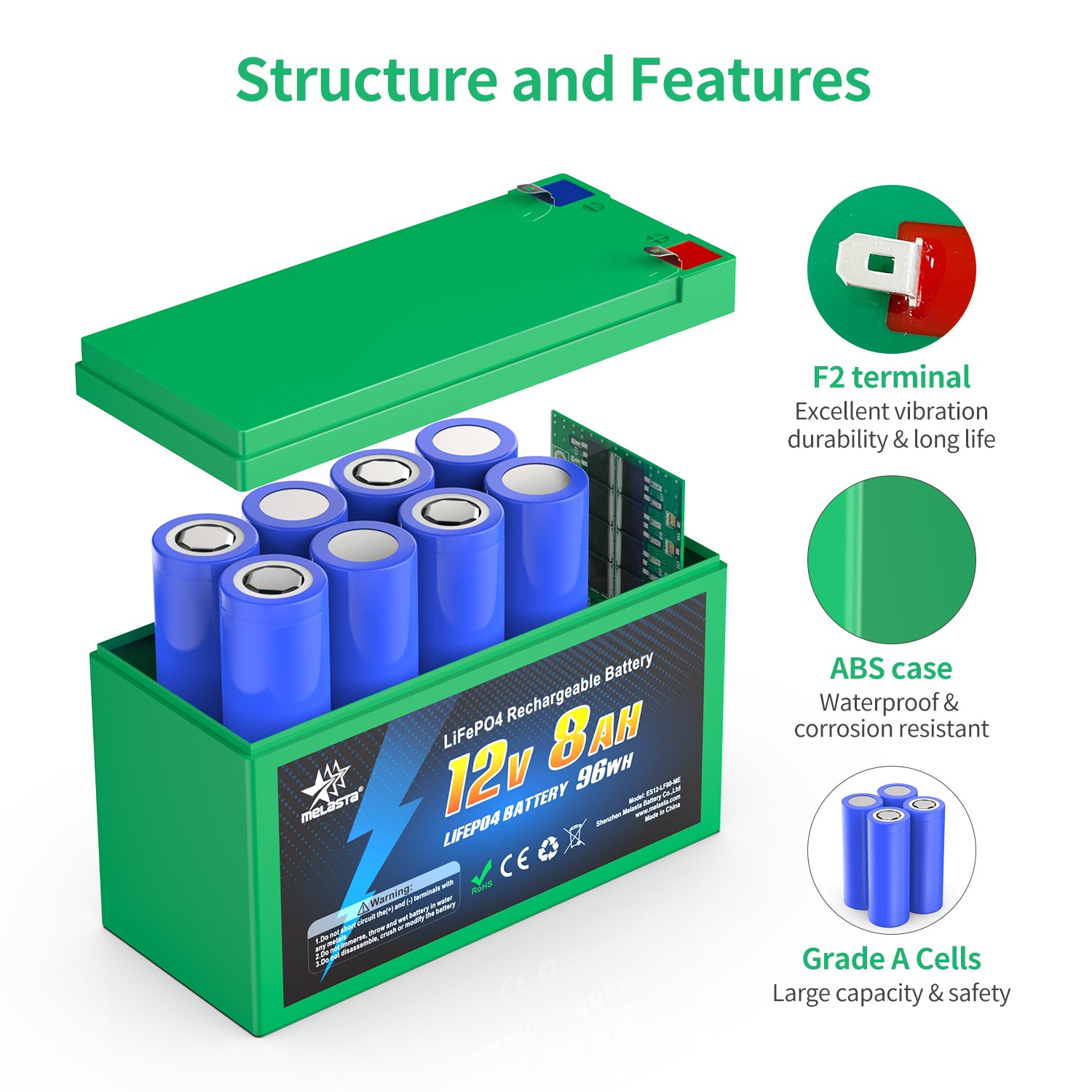 Solid Structure
Made of Grade A cells, with waterproof & corrosion resistant case, F2 terminal-Excellent vibration, durability & long life.
100% Protection
Built-in BMS(Battery Management System) protects the cell from damage like: overcharge, over-discharge, and a short-circuit. And keep the balance between battery cells. LiFePO4 technology gives a very flat discharge curve which means sustained power to the end of the cycle. If you are powering lights, they will remain brighter for longer, giving you sustained performance.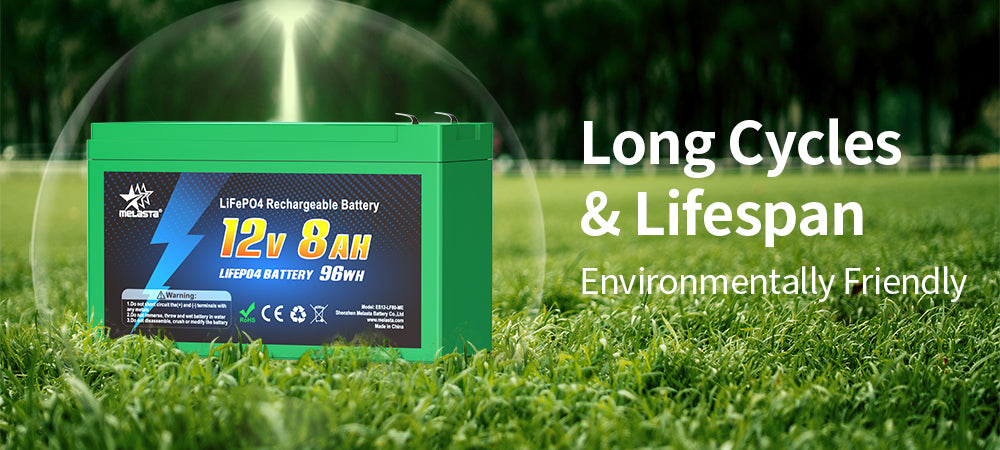 Long Cycles & Lifespan
Melasta LiFePO4 battery can provide more than 2000 cycles and 10 years lifetime. The service life is more than 5 to 8 times that of other batteries. LiFePO4 battery adopts Automotive Grade LiFePO4 cells with higher energy density, more stable performance and greater power, the self-discharge current is less. Environmentally friendly without acid liquid. Non-toxic, renewable energy, harmless to the environment.
Advanced Technology
Melasta LiFePO4 battery possesses industry-leading technology and is manufactured with advanced technology in the industry. This model has excellent and reliable performance with sufficient battery capacity, supporting battery expansion for up to 4 series & 4 parallel and suitable for electric energy storage.
Wide Applications
Max Continuous Output Current: 10A. The maintenance-free LiFePO4 battery can be safely used in many areas: emergency power supply, home storage system, trolling motor, fish finder, wheelchair scooter, lawn mower, golf cart, boat, solar system, 12V router, RV camper, kids scooter, kids riding toy, electric power wheels car and more. NOTE: Working Temperature: -4℉ to 140℉(-20℃ to 60℃). Charging Temperature: -4℉ to 122℉(-20℃ to 50℃).


Charging Methods
There are 2 methods to charge the battery.

1. Charge it with 14.6v LiFePO4 Battery charger

2. Charge it with Solar Panel
LiFePO4 Battery Technology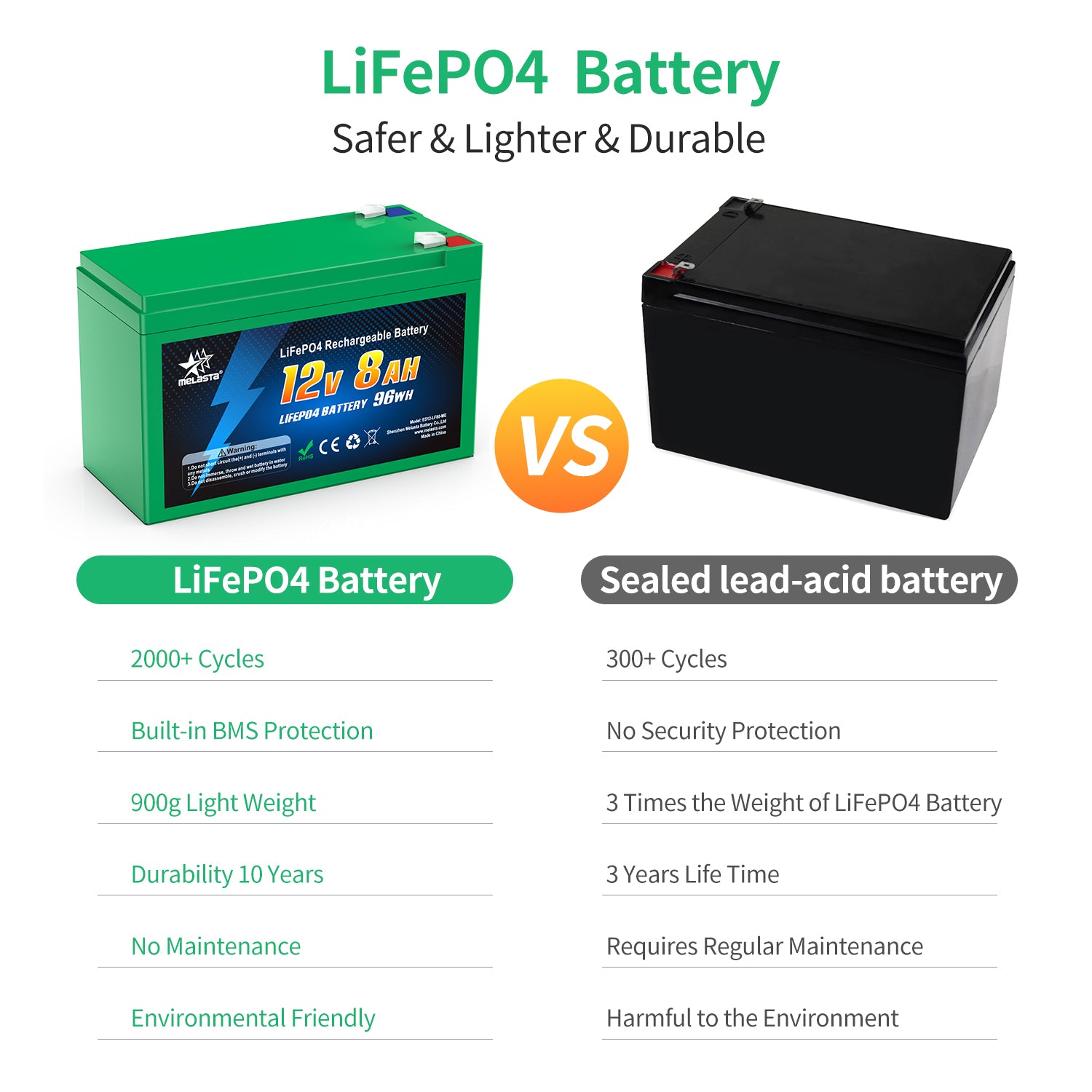 Why Choose Melasta ?
A Profesional Portable Power Solution Provider
One stop shop for Battery

1. Energy storage System

2. Power Tool Batteries

3. RC Batteries

4. Chargers

5. E bike battery Solutions

6. Consumer Batteries

Manufacturing Technology

1. Production Capacity

2. 40+ Engineers

3. 11 Years Experience

4. 500+ Skilled Labor

5. Quality Management

Research & Development

1. Hi-Tech Enterprise

2. Two Testing Labs

3. High Capacity Technology

4. 50+ Research Patents

After Sales Services

1 Multicultural Teams

2. Product Warranty

3. One to One Support

4 Dedicated Teem

5.Production Tracking Platform
Speak to our experts
If you need help selecting the right lithium battery for your application feel free to contact us, We have a dedicated team of experts who will be more than happy to help you to design the battery pack