MELASTA
Regular price
$18.99 USD
Sale price
$11.59 USD
Unit price
per
Sale
Sold out
Brand Name: melasta
Type: NI-MH
Model Number: C4000
Set Type: Batteries Only
Battery Number: 4pcs
Replacement Battery: Yes
Size: C
Nominal Capacity: 4000mAh
Fit for: LED Flashlights, Portable Radios, Baby Equipment,Emergency Lanterns.
is_customized: Yes
Type: NI-MH rechargeable battery
Battery Size: C
Dimension(max): Diameter:25.8mm*Height:50mm
Weight: About 75g
Voltage: 1.2V
Discharge Temperature: -20℃ -- 60℃
Brand Name: MELASTA
Voltage: 1.2V
Real Capacity: 4000mAh
Battery Type: NI-MH Rechargeable Battery
Battery weight : 75g/piece
Battery Size: C
Quick Charge: at 0.5C for 2.4 hours
Standard Charge: at 0.1C for 16 hours
Charging Cycles: 1200 Cycle times
Low Self Discharge 
The new material is used as a separator between the anode and the cathode to reduce self-discharge.
The more durable new super-crystal structural alloy, the uniformity of its crystal structure is improved, and the proportion of the constituent elements is optimized. This also reduces the aging phenomenon caused by charge and discharge.
Only 1% self-discharge rate (vs other ni-mh rechargeable batteries 25% per month. )
Charge once, spare for three years
You only need to fully charge the battery for one time,it remains 70% capacity after 3 years of storage(others rechargeable batteries have 0% left after 1 year)
Eco-friendly and Money saving
The Melasta rechargeable NiMH C battery can be recharged up to 1200 times.The battery pays for itself after 5 charges. So avoid wasting time and money on the disposable alkaline batteries and decrease the waste disposables leave behind.
Ready to use
Combine the advantages of alkaline batteries and rechargeable batteries.All batteries will fully charged before sending out, and it is used immediately when purchased. It is completely comparable to the performance of dry batteries, which is more convenient and faster than ordinary rechargeable batteries.
Widely Applications
The Melasta rechargeable C batteries are perfect replacement for alkaline batteries. Compatible with any high drain electronic devices like LED Flashlights, Portable Radios, Baby Equipment. Megaphone Speakers,Cassette Records, LED Candles,Emergency Lanterns, and other portable high drain digital electronics.
Tips: It requires with 50% charge for storage when batch batteries in stock , we suggest charge battery once every 3 months if battery had been stocked over 3 months.
Super Long Cycle Life
* Up to 1200 cycle times,rechargeable and save money.
* 1 pc Melasta LSD battery = 1200 pcs Alkaline batteries
Low Long Storage Life
Melasta LSD NIMH battery charge once,will have 70% capacity left after 3 years of storage.
(Others will remain 0% after 3 years)
Choose Melasta LSD battery,you will get rechargeable,non pollution and high capacity.
Share
View full details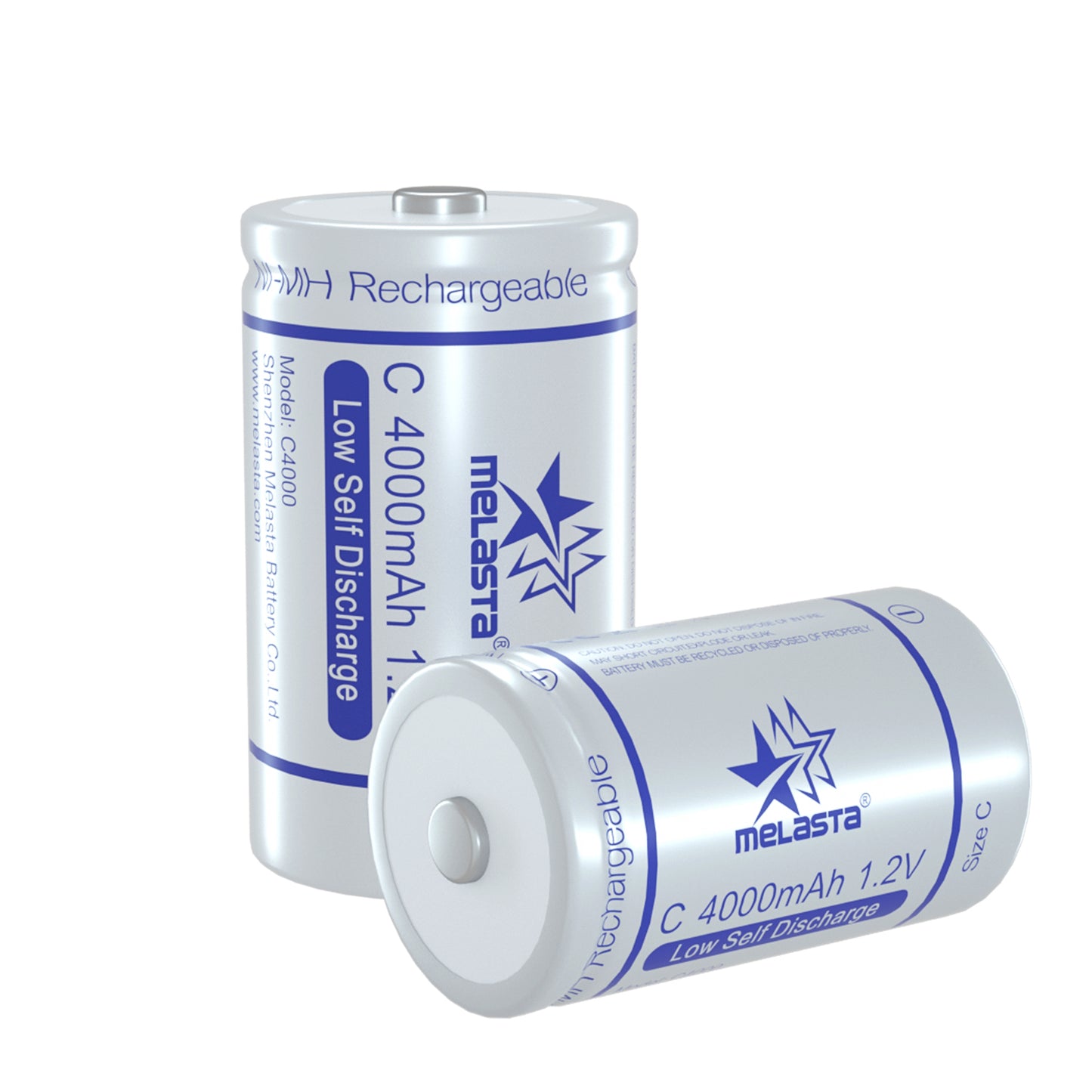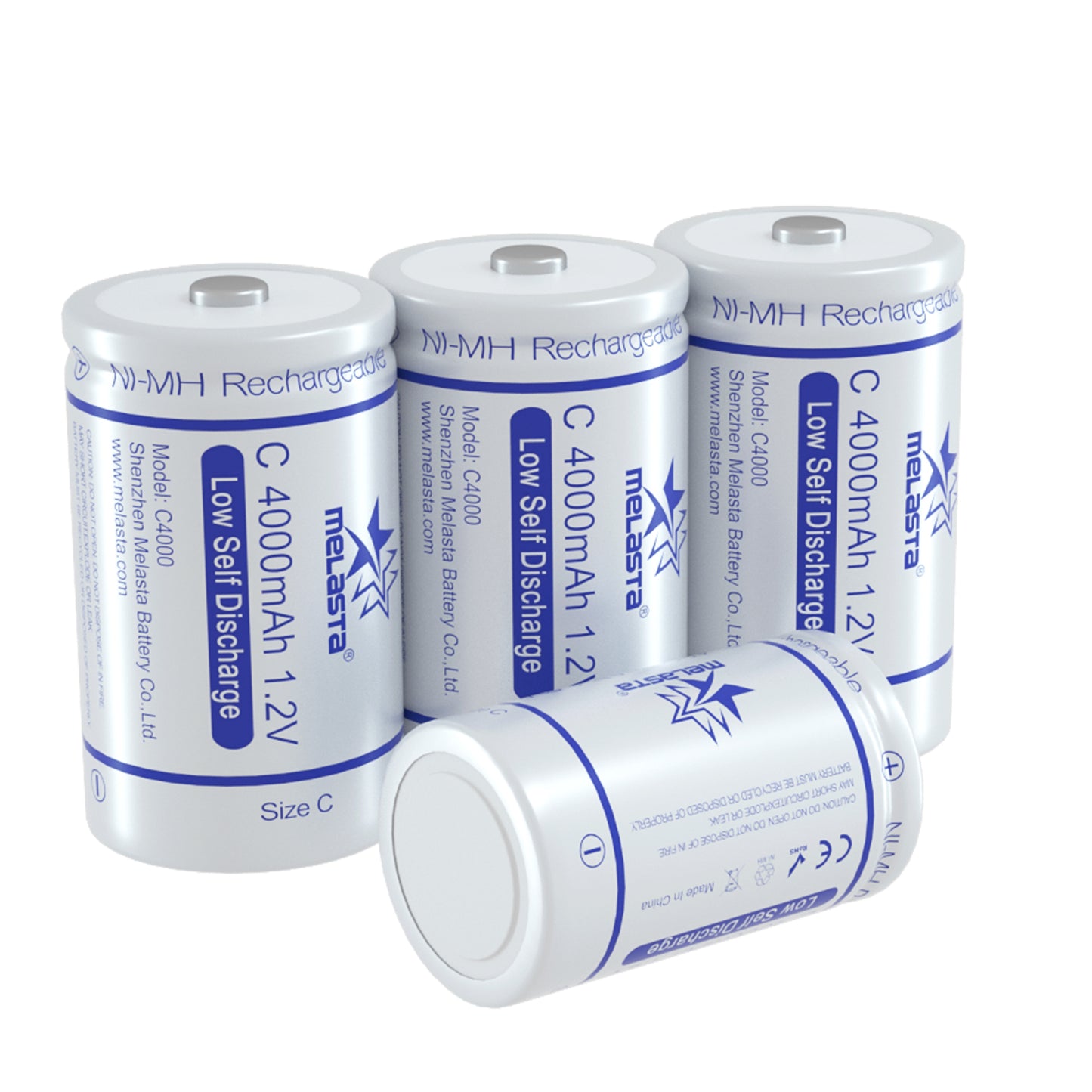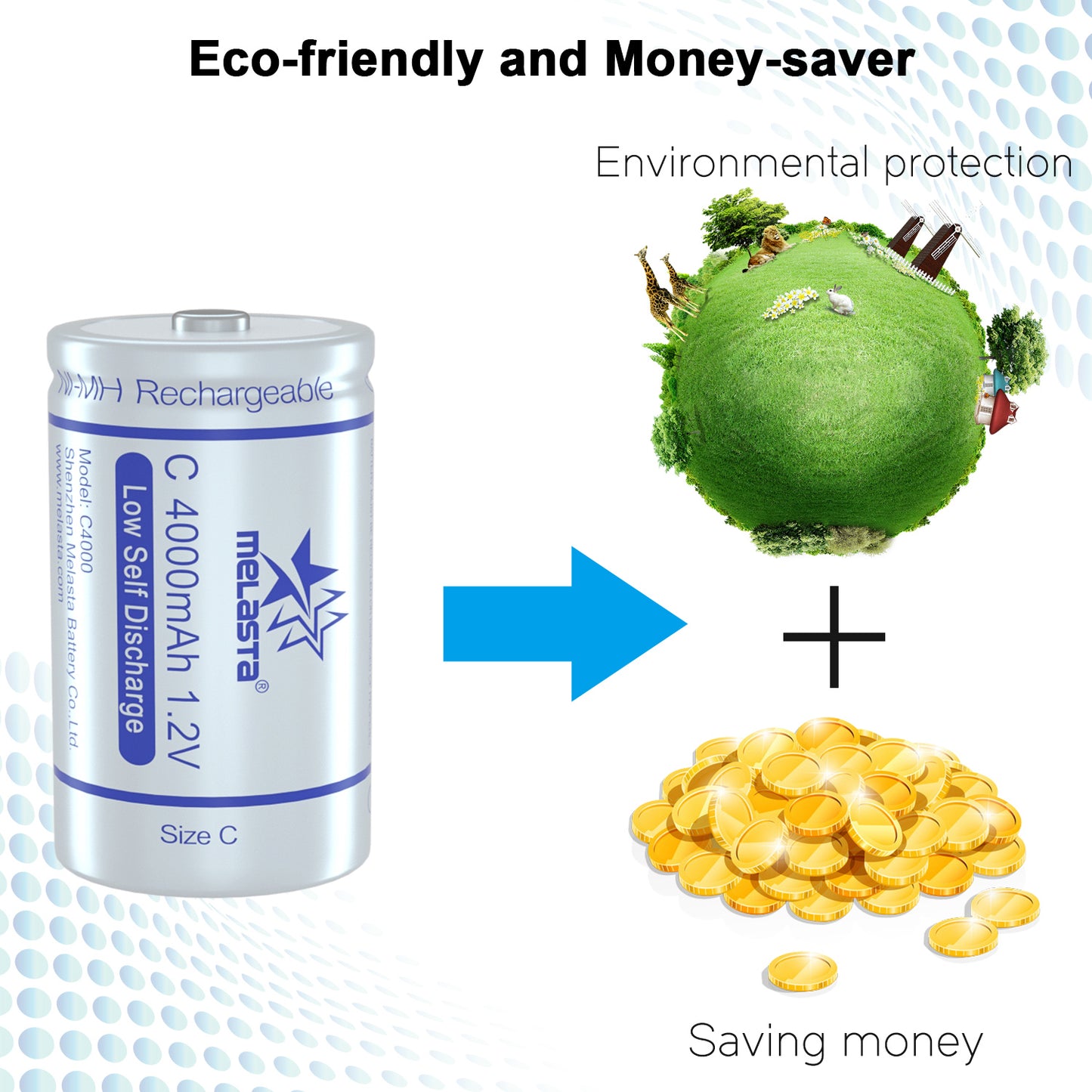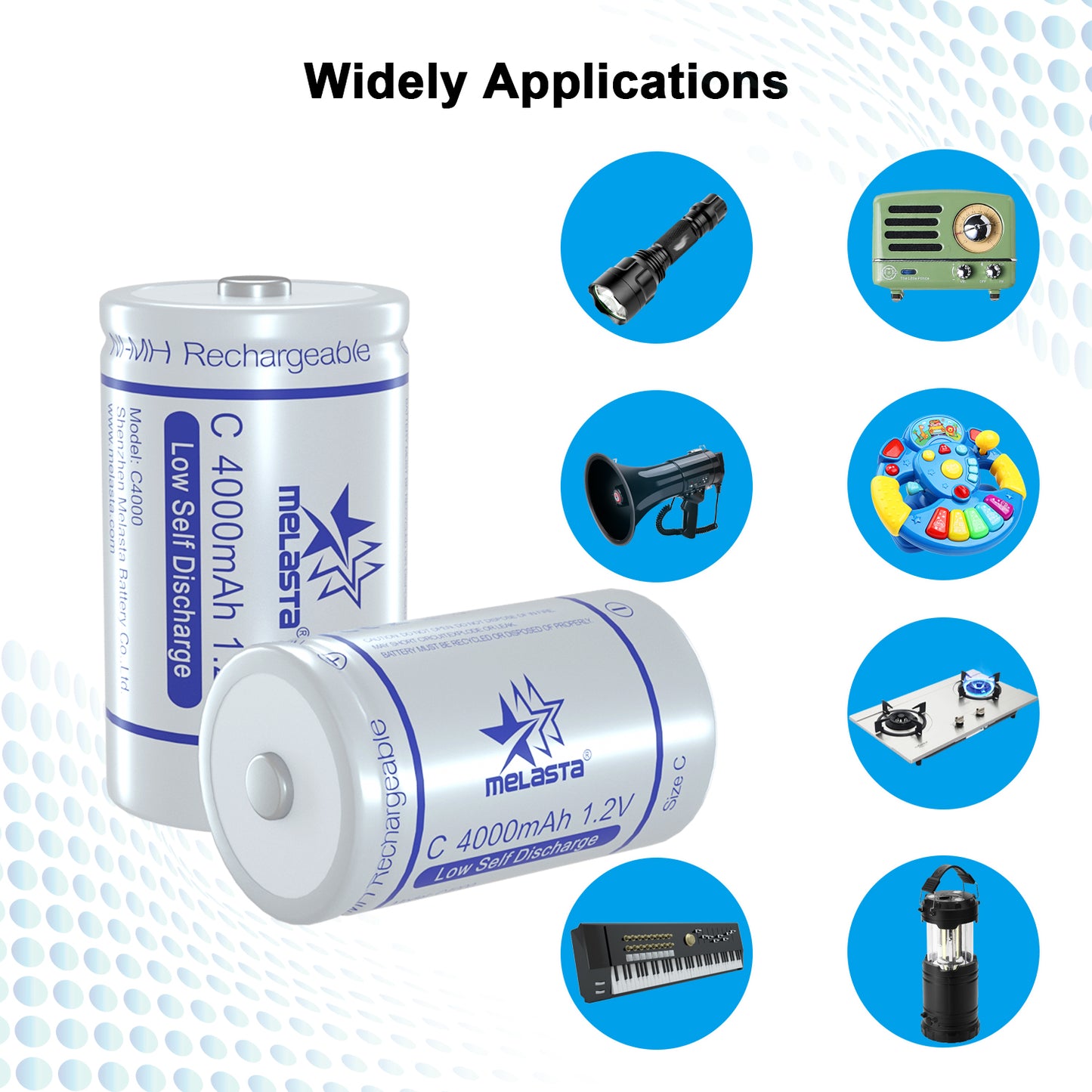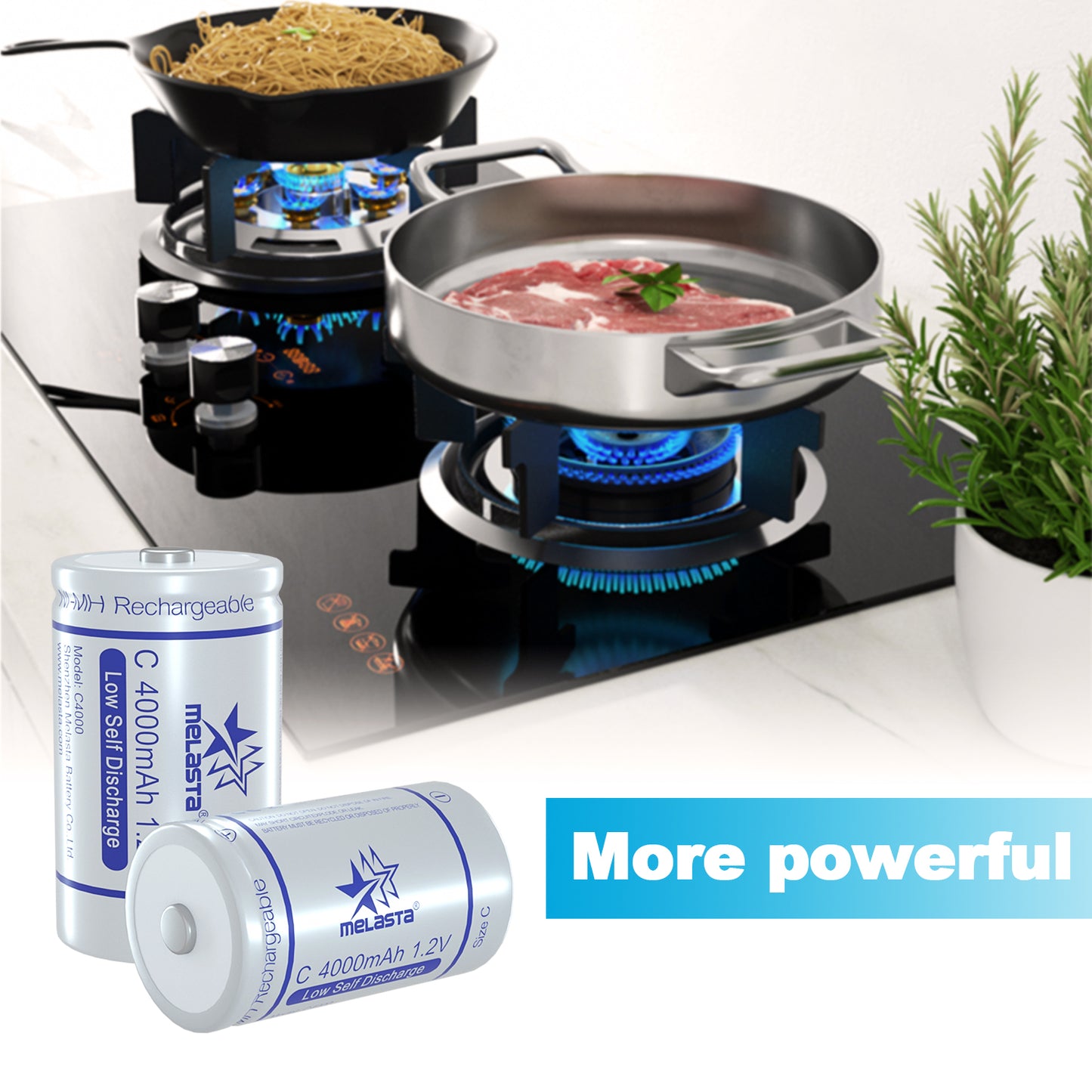 Other Melasta Solutions
Check Out our other Solutions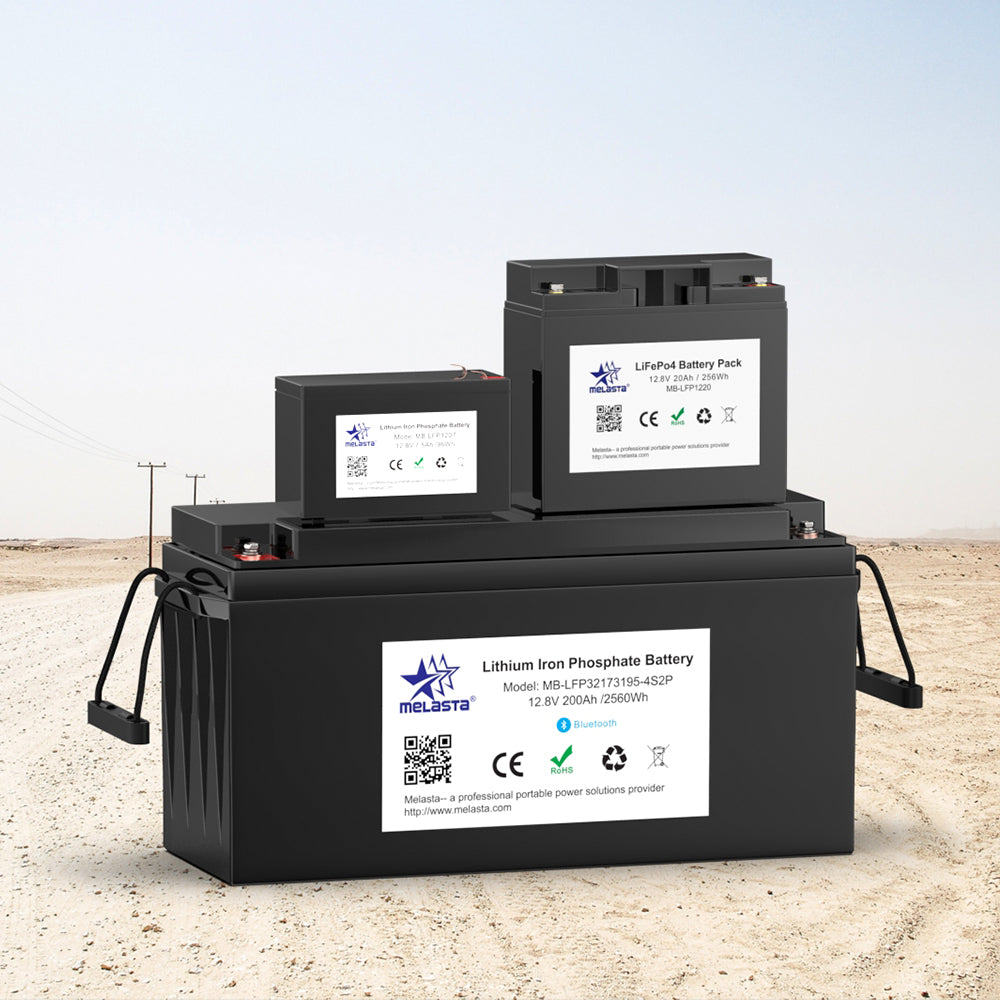 LiFePO4 Battery
Explore your limits with the LiFePO4 product and experience the freedom that comes from the ability to use more energy in a compact, maintenance-free package that's reliable, safe, and stress-free.
Shop now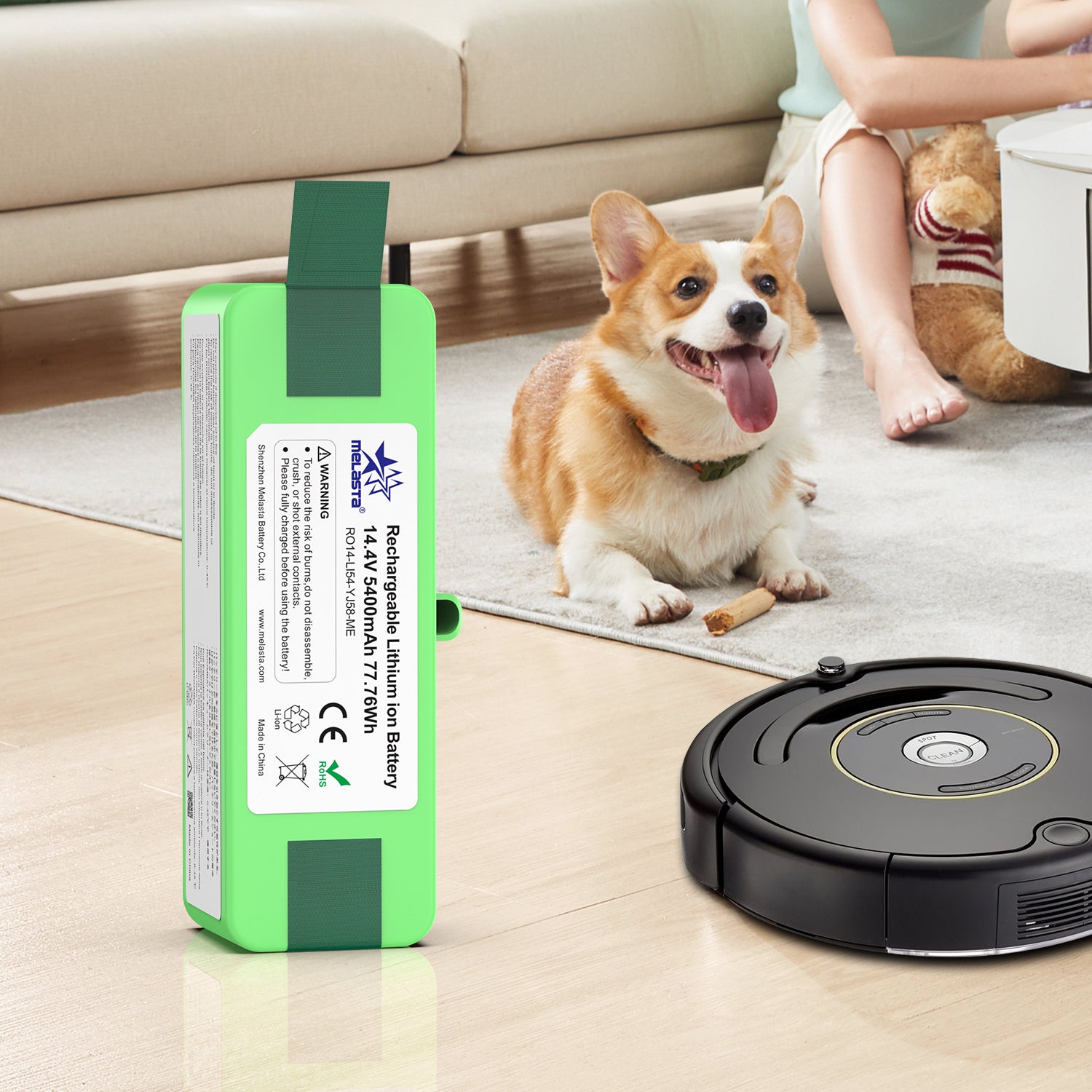 Cleaning Robot Battery
Replacement battery for the popular iRobot Roomba series vacuum cleaners. Perfectly compatible with the original.
Shop now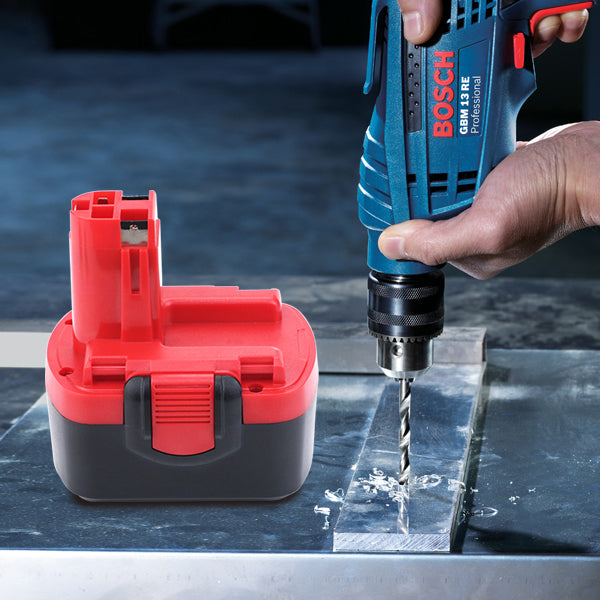 Power Tool Battery
Our newest Lithium Battery technology in rechargeable batteries offers a replacement Solution for cordless power tools and outperforms in all situations. 
Shop now
Why Choose Melasta ?
A Profesional Portable Power Solution Provider
One stop shop for Battery

1. Energy storage System

2. Power Tool Batteries

3. RC Batteries

4. Chargers

5. E bike battery Solutions

6. Consumer Batteries

Manufacturing Technology

1. Production Capacity

2. 40+ Engineers

3. 11 Years Experience

4. 500+ Skilled Labor

5. Quality Management

Research & Development

1. Hi-Tech Enterprise

2. Two Testing Labs

3. High Capacity Technology

4. 50+ Research Patents

After Sales Services

1 Multicultural Teams

2. Product Warranty

3. One to One Support

4 Dedicated Teem

5.Production Tracking Platform
Speak to our experts
If you need help selecting the right lithium battery for your application feel free to contact us, We have a dedicated team of experts who will be more than happy to help you to design the battery pack